---

Because anything and everything need an intro...
iconfiend100
is an
LJ Community
that's run very similarly to
prompted
drabbles of a certain number, like IY no Kakera, 30 Shards and the almost infamous 30 Kisses. Except, obviously, this com's for
icons
. If you want to experiment and try out your
icon skillz
(whether they're nonexistent or not), then this is a fun way to incorporate what you love (not necessarily Inuyasha) with what you do.
I claimed CardCaptor Sakura, a manga by CLAMP turned into an anime with pretty graphics from both, just because I used to love it when I was younger (not so long ago, lol) and because I like playing with the graphics. If they are worthy enough to catch your eye, feel free to snag, but credit 'em, cause it's just polite. Thank you! So, without further ado, my icons.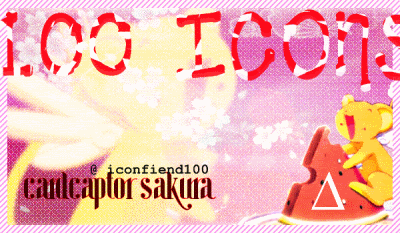 | | | | | |
| --- | --- | --- | --- | --- |
| 01 prologue | 02 dice | 03 doubt | 04 pose | 05 tell me |
| | | | | |
| 06 scream | 07 touched | 08 suspect | 09 alien | 10 eve |
| | | | | |
| 11 stay | 12 meet again | 13 reality under the sun | 14 gravity | 15 white out |
| | | | | |
| 16 a vision | 17 tonight | 18 crazy about you | 19 imitation love | 20 sincerely yours |
| | | | | |
| 21 melody | 22 chaos | 23 promise | 24 sacrifice | 25 two for tragedy |
| | | | | |
| 26 wanderlust | 27 the crying game | 28 at the bottom of everything | 29 clocks | 30 daylight |
| | | | | |
| 31 warning sign | 32 a rush of blood to the head | 33 heavy | 34 shine | 35 run |
| | | | | |
| 36 precious declaration | 37 the world I know | 38 next homecoming | 39 listen | 40 join me in death |
| | | | | |
| 41 razorblade kiss | 42 resurrection | 43 one last time | 44 we might as well be strangers | 45 your eyes open |
| | | | | |
| 46 can't stop now | 47 I was never born | 48 change your mind | 49 midnight show | 50 epilogue |
| | | | | |
| 51 AC | 52 AC | 53 AC | 54 AC | 55 AC |
| | | | | |
| 56 AC | 57 AC | 58 AC | 59 AC | 60 AC |
| | | | | |
| 61 AC | 62 AC | 63 AC | 64 AC | 65 AC |
| | | | | |
| 66 AC | 67 AC | 68 AC | 69 AC | 70 AC |
| | | | | |
| 71 AC | 72 AC | 73 AC | 74 AC | 75 AC |
| | | | | |
| 76 AC | 77 AC | 78 AC | 79 AC | 80 AC |
| | | | | |
| 81 AC | 82 AC | 83 AC | 84 AC | 85 AC |
| | | | | |
| 86 AC | 87 AC | 88 AC | 89 AC | 90 AC |
| | | | | |
| 91 AC | 92 AC | 93 AC | 94 AC | 95 AC |
| | | | | |
| 96 AC | 97 AC | 98 AC | 99 AC | 100 AC |
| | | | | |
Credits:
Banner: texture by
Celestial-Star
Current Mood:
busy